WHY DID I LIKE THIS SO MUCH?!
What is it? 1 hour 30 minute (approx. 1 hour 20 minutes without commercial breaks) CGI animated Barbie direct-to-TV/DVD/streaming movie
Where did it air? Nickelodeon in this instance, although I imagine most people will end up either just going out to buy the DVD or buy it on a streaming service (I also imagine most of the people who are going to see it have already seen it long before it hit Nick's airwaves)
Who stars in it? Well it's CGI so it's going to be an all-voice actor cast, and knowing the typical nature of a beast like this a bunch of people who are likely quite contempt with their voice acting careers but not really going to be big names in the industry. Veteran anime and English-produced cartoon voice actress Erica Lindbeck does Barbie, as she has in many, many previous Barbie CGI movies; Kimberly Woods pretty much does the rest of the heavy voice-acting-lifting as Sal-Lee (yes that's seriously the character's names).
Why are we reviewing this? A bigger question is WHY DID I LIKE IT SO MUCH?!
WHY DID I LIKE IT SO MUCH?!
NO, SERIOUSLY, WHY DID IT LIKE IT SO MUCH?!
Episode Grade: B.
WHY DID I LIKE IT SO MUCH?!
Episode MVP: Well it's a CGI movie so the criteria is going to be vastly different than for a live-action show or even a "traditional"/2D animation since the "acting" is done through as much the software (or its limitations) as the voice work...I guess it's a tie between Kimberly Woods since Sal-Lee was, of the characters even approaching developed, by far the most interesting and Ben Bledsoe who "voices" Pupcorn because that floating little furball was just so darn adorable.
Extra Thoughts:
- WHY DID I LIKE IT SO MUCH?!
- One thing I have to readily admit: especially for what it is, the visuals are actually pretty dang impressive (particularly the starscape backgrounds and such, but the close-up visuals aren't bad either). Mattel isn't exactly going to break the bank when they make these Barbie Direct-to-TV/DVD/Streaming movies so they actually provide an interesting and insightful barometer regarding where the state of CGI animation is (and for the exact same reasons, so will most of your regularly televised CGI animation shows, whether it'd be Star Wars: Rebels, Teenage Mutant Ninja Turtles [you can tell a huge difference between S1 and S4, for example], Miraculous: Tales of Ladybug and Cat Noir [another series I admittedly guilty pleasure-ly enjoy] or Doc McStuffins [yeah about that one, umm...sure]).
- That said, the actual characters themselves look as if they're just as literally made from plastic as their doll counterparts.
- I'm willing to bet this is still going to be better than almost nearly any given random episode of Star Wars: Rebels S1
- I'll admit the whole reason why this thing even caught my attention was because of how adorable Pupcorn was in the previews/trailer: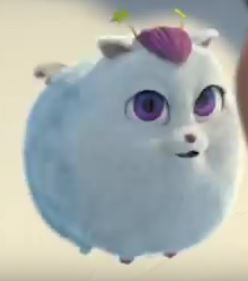 Taken from the Barbie Movie Wikia, apparently that's a thing
But then it had to change into a boring ole' cat.
Taken from the official Barbie site
- Why were there two Barbie doll-sized Barbie dolls talking with and interacting with the human-sized Barbie dolls?
- Why are there clunky robots colored pink and wearing skirts?
- WHY DID I LIKE THIS SO MUCH?!?!
- This is several months after the fact looking back on this review, but I'm adding this because it seemed ambiguous and even exactly the opposite of what I was trying to say at first, so - yes, I also love Doc McStuffins.